On Monday the TPA published research on quangos and particularly who sits on their boards. These quangos can have vast budgets so it is vital that there is greater transparency over who controls so much taxpayers' money.
What we found raised some eyebrows and the research attracted a fair bit of media coverage, including write-ups in City A.M, The Sun and Express.
Here are some key findings:
At least 1,504 quango board meetings were missed in 2014-15 alone;
There are at least 134 quango board members who sat on more than one board in 2014-15;
Fifteen individuals sat on more than two quango boards;
In the same period of time, Jonathan Baume sat on five quango boards:

Civil Service Commission - £5,000-£10,000; 9/9 meetings attended
Criminal Cases Review Commission - £0-£5,000; 7/8 meetings attended
Health and Safety Executive - £15,000-£20,000; 10/10 meetings attended
Office for Nuclear Regulation - £0; 4/6 meetings attended
Advisory, Conciliation and Arbitration Service - £1,695; 2/3 meetings attended
The Sun highlighted some major cases, including the aforementioned case of "quango-king" Jonathan Baume, who took home up to £56,000, as well as Christine Tacon, who received up to £96,850 for her three posts.
The Express added that "Ironically, as a trade union leader in 2010, Mr Baume called for an end to "eye watering salaries" for some appointments to the civil service".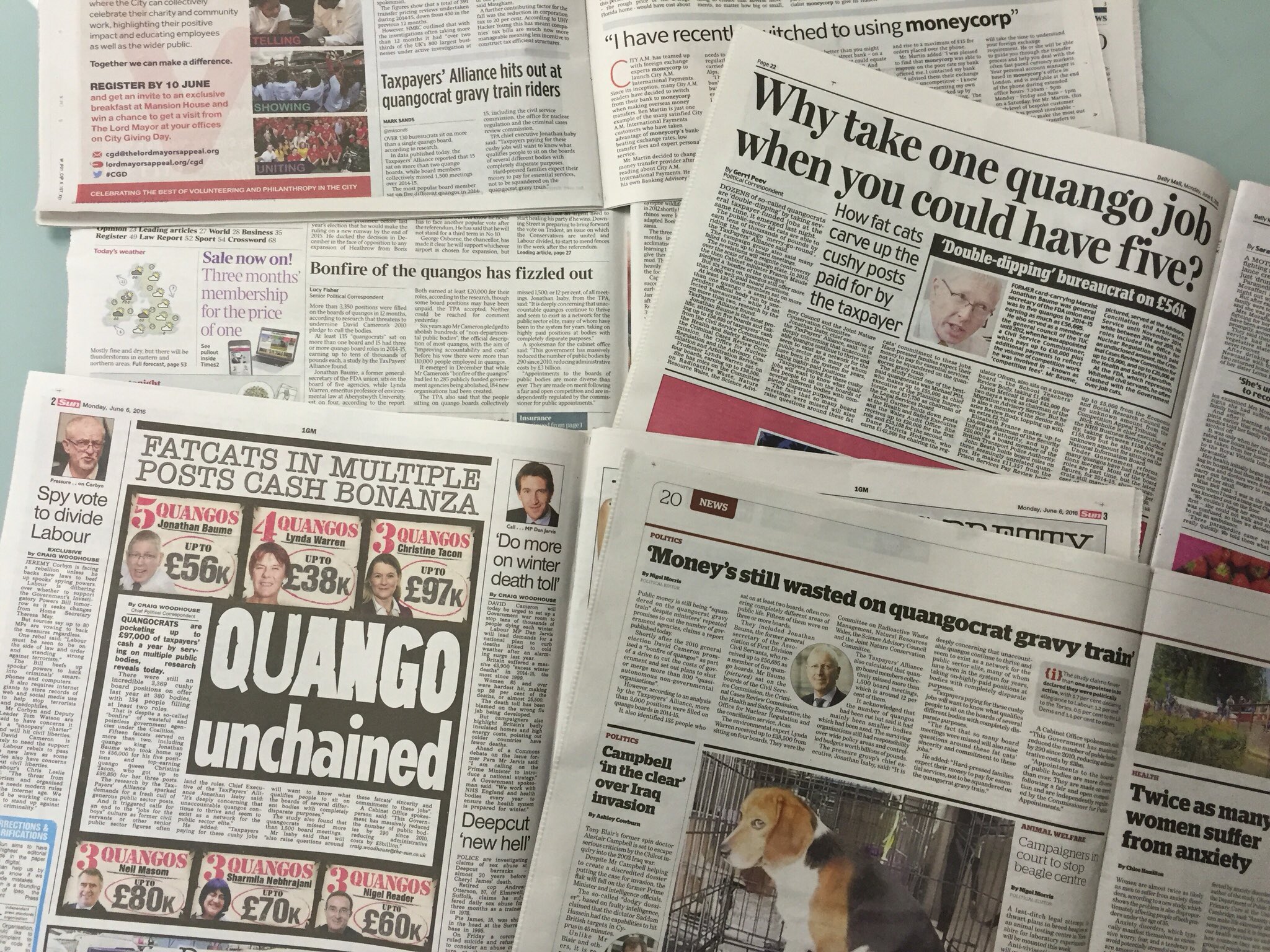 And the sheer number of missed meetings is certainly a significant problem for one simple reason – these board members are paid by the UK taxpayers, and the least that can be expected from them in return is to turn up and do the job.
If someone misses the majority of their meetings questions should be asked about their commitment to the job. Especially while there may be other qualified individuals who could sit on the board, and hence such cases of absenteeism represent a significant loss on behalf of taxpayers.
Finally there seems little rationale for an individual to sit on more than one quango board when their functions are so different. It would seem very unlikely that the specialist knowledge required for one area is applicable to another.
The Express quoted our Chief Executive Jonathan Isaby who raised concerns about boards being filled with public sector elite, "many of whom have been in the system for years, and start taking on highly paid positions at bodies with completely disparate purposes" – "jobs for the boys".
It is very unfortunate that the government has failed to deliver on its promise of the "bonfire of the quangos" and here at TPA we are determined to bring an end to such an inefficient waste of money taken from hard-pressed families.